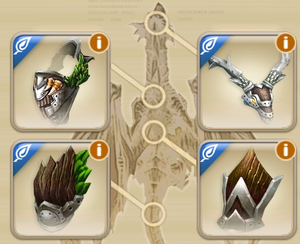 Armor for your
Nightshade Dragon
can be obtained by attacking the level 10 Grodz camp in the campaign on realms that are also able to gain crests by attacking wilds. Armor can also be purchased with rubies. Dragon armor consists of four pieces: Helmet, Body Armor, Clawguard, and Tailguard.
The Nightshade Dragon Armor is composed by special pieces only usable by the Nightshade Dragon. You will distinguish these special armor pieces by the blue leaf symbol they have in the corner of their picture.
For a break down of Dragon Armor Attributes
Please be advised this page has been updated to reflect Armor sets for the selected Dragon! Random armor has random stats and adding each one into this chart would reach on forever. If you do have an armor material not shown in the picture below please add a screen shot so it can be added to that file.
PLEASE KEEP TABLES IN ALPHABETICAL ORDER!
Nightshade Dragon Armor
| Body Armor Name | Life | Defense | Melee | Ranged | Range | Speed | Load |
| --- | --- | --- | --- | --- | --- | --- | --- |
| Lunar Nightshade Dragon Breastplate (2014) | +25,920 | +140 | | | | | +120 |
| Nightshade Dragon Holiday Breastplate (2013) | | | | | | | |
| Twilight Breastplate | +99,876 | +1,666 | | +3,916 | | | |
| Inferno Breastplate | +147,328 | +4,366 | | +8,251 | | | |
| Helmet Name | Life | Defense | Melee | Ranged | Range | Speed | Load |
| --- | --- | --- | --- | --- | --- | --- | --- |
| Lunar Nightshade Dragon Helmet (2014) | +24,500 | +250 | +215 | | | | |
| Nightshade Dragon Holiday Helmet (2013) | | | | | | | |
| Twilight Helmet | +39,950 | +666 | | +17,898 | | | |
| Inferno Helmet | +58,932 | +1,747 | | +19,252 | | | |
| Tailguard/Tailbrace Name | Life | Defense | Melee | Ranged | Range | Speed | Load |
| --- | --- | --- | --- | --- | --- | --- | --- |
| Lunar Nightshade Dragon Tailbrace (2014) | | +50 | +150 | | | +25 | |
| Nightshade Dragon Holiday Tailbrace (2013) | | +40 | | | | +20 | |
| Twilight Tailbrace | +39,950 | +666 | +16,620 | | | | |
| Inferno Tailbrace | +58,932 | +1,747 | +20,430 | | | | |
| Clawguard/Bracers Name | Life | Defense | Melee | Ranged | Range | Speed | Load |
| --- | --- | --- | --- | --- | --- | --- | --- |
| Lunar Nightshade Dragon Bracers (2014) | +3,850 | | +310 | | | +25 | |
| Nightshade Dragon Holiday Bracers (2013) | +3,637 | | +215 | | | +23 | |
| Dark Shadow Bracers (needs name verification) | +4,850 | | | +500 | +22 | | |
| Twilight Bracers | +19,976 | +334 | +21,814 | | | | |
| Inferno Bracers | +29,466 | +874 | +30,645 | | | | |
Nightshade Dragon Armor Sets
| Armor Set Bonuses | Life | Defense | Melee | Ranged | Range | Speed | Load |
| --- | --- | --- | --- | --- | --- | --- | --- |
| Twilight Armor Set 2pc | 25000 | | | | | | |
| Twilight Armor Set 3pc | | | 5000 | | | | |
| Twilight Armor Set 4pc | | | | 10000 | | | |
| Inferno Armor Set 2pc | 35000 | | | | | | |
| Armor Set 3pc | | | 7500 | | | | |
| Inferno Armor Set 4pc | | | | 15000 | | | |